The 5 Best Roasting Pans for Every Kind of Cook
Whether you're roasting vegetables for a quick, weeknight side dish or you're cooking Thanksgiving dinner, we've got the roasting pan for you.
Each product we feature has been independently selected and reviewed by our editorial team. If you make a purchase using the links included, we may earn commission.
Tetra Images/Getty Images
A good roasting pan is a kitchen essential—especially this time of year. Perfectly roasted meats and vegetables just scream "fall."
We searched high and low for the best roasters on the market. Here are some of our favorites:
Longest-lasting:
Sure, $130 is undeniably steep for a single piece of cookware. But this pan is designed to hold up through years of use. The high sides reduce splattering (a ridiculously uncommon trait among roasting pans) and the handles are large and easy to grasp when you're lifting the pan in and out of the oven.
Best Multitasker:
Get more bang for your buck with this 12-quart miracle product. This 2-piece roaster replaces 14 pots and pans, including: four differently sized roasting pans, a Dutch oven, a stock pan, a casserole pan, a deep fryer, a baking pan, a slow cooker and steamer.
Most Popular:
The inexpensive Granite Ware product is the bestselling roasting pan on Amazon. This pan is smaller than most, but reviewers say it's great for roasting chicken and vegetables. Plus, the speckled pattern gives it a vintage feel.
Best Set: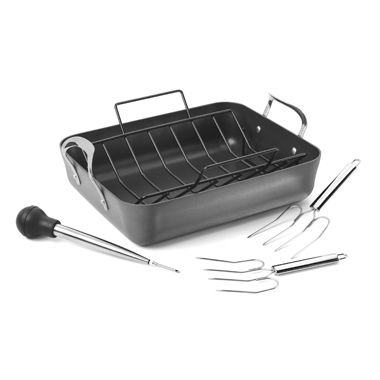 This generously sized 16-inch pan is perfect for your Thanksgiving turkey. Constructed with heavy-gauge, hard-anodized aluminum for rapid, even heating, this set includes an injection baster, a rack and two lifters are included in the set.
Best Gift:
This 16.5-inch pan is the most gifted roasting pan on Amazon. Another great option for Thanksgiving, the Wolfgang Puck model can old a 25-pound turkey. The durable v-shaped roasting rack promotes air circulation for quick even cooking, while allowing fat and oil to drip away.